The African Environmental Film Foundation's powerful documentary '
White
Gold' which highlights the global impact of the illegal international
ivory trade
was launched Tuesday at a high profile screening in New York. Introduced by special guest, Hillary Rodham Clinton, who also narrated the documentary, the film drew gasps from the audience as the ugly reality of the modern day ivory trade and its repercussions for elephants, people and peace were revealed on the big screen.
WHITE GOLD's production team and Kenyan conservationists flanking Hillary Rodham Clinton at the launch of the documentary in New York City. Photo by: Joe Schildhorn/BFANYC.com
Hillary Clinton next to the WHITE GOLD poster showing a mother and baby elephant in Kenya's Tsavo National Park. Photo by: Joe Schildhorn/BFANYC.com
Following the screening, the audience put questions to a panel consisting of the film's producers and Kenyan conservationists, who were introduced by Sigourney Weaver.
The purpose of AEFF's film 'White Gold' is to raise awareness of the ivory trade amongst international consumers, as well as to encourage greater support for frontline protection of elephants in Africa.
Please donate generously to enable us to distribute this film to the major ivory consumer nations of the Far East.
AEFF will be taking 'White Gold' to China, narrated in Mandarin by Jackie Chan, to reach out to the affluent middle classes of the world's most prolific ivory consuming nation.
'White Gold' is also screening at New York City's premier documentary film festival, DOCNYC. Click here to get tickets and details.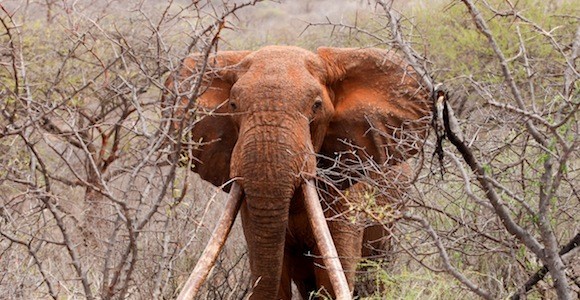 WHITE GOLD
WORLD PREMIERE This front-line exposé of the modern day ivory trade explores its frightening impact—not only threatening elephant populations, but at times even funding terrorism. Narrated by Hillary Rodham Clinton, the film pays tribute to the beauty and emotional intelligence of the elephant and documents how the demand for ivory raises the stakes for nature, people and peace. Producer Arne Glimcher, founder of the Pace Gallery, joins forces with acclaimed wildlife filmmaker Simon Trevor and the producers of the African Environmental Film Foundation to tell the story. The filmmaking team will hold an extended conversation following the film.
Section:
Tags:
Africa, Animals, Crime, Environment, International
Official Site:

Director:

SIMON TREVOR

Producer:

Arne Glimcher; Co-Producers: Tanya Saunders & Ian Saunders; Line Producer: Bonnie Hlinomaz

Cinematographer:

Simon Trevor; Additional Cinematography: Ian Saunders

Editor:

Amy Seplin & Grace Kline

Music:

Jim Pywell

Running Time:

38 min.

Language:

English

Country:

USA

RIGHT NOW, an illicit activity is taking place around the globe.
It makes criminals billions of dollars.…
Related articles