A majority of the House has agreed that if the Senate's clean continuing resolution to fund government landed on the House floor, they would vote to immediately reopen our government- ending the GOP's atrocious misuse of power and the American peoples' trust.
Normally, that majority would be enough. However, while you weren't looking, on the eve of the government shutdown, House Republicans on the Rules Committee were busy rigging the rules to prevent the bipartisan Senate plan from coming to the floor for a vote.
Now, only Republican House Majority Leader Eric Cantor can call up the Senate bill – you and I know Eric Cantor won't give this bipartisan bill a chance. If you're as outraged as me by this latest GOP atrocity- lend your voice now. We must put an end to Tea Party Republicans abusing our democracy and bruising our Nation's full faith and credit.
Tea Party Republicans have blocked the will of the majority and have plunged our country into an ongoing shutdown that is causing financial devastation for small businesses, seniors, veterans and hardworking Americans across the country. Please join me now to demand responsibility. Add your name here.
Today, we're entering week three of the government shutdown.
Here's the latest: After Ted Cruz's private meeting last night with Tea Party House Republicans, the right-wing fringe has REJECTED a potential Senate deal to avert default and end the government shutdown.
Gary Miller. Tom Reed. Steve Southerland. Three of the worst Republicans in the House.
They're fighting to keep the government shut down, keep tanking the economy, and keep bringing the hammer down on the country's families.
We can beat all three. But we've got to get moving right now, when the GOP is against the ropes with their 24% approval rating.
Contribute right now to Eloise Gomez Reyes, Martha Robertson, and Gwen Graham, the EMILY's List women running to send Miller, Reed, and Southerland back where they came from and where they can't play politics with our lives any more.
These guys are hurting us all. We've got to beat them. They're less popular than they've ever been. Now's the time to get this done.
That's right. The Tea Party is now just TWO DAYS away from throwing the economy off a cliff, just to mess with Obamacare.
And, in two days, we'll be facing a full economic shutdown if Congress fails to pay our bills, sending the country into default.
Politicians in Washington had an entire long weekend to try and work out their differences and find a solution to fund and reopen the government. But did they? NO.
Seriously, Congress? You have one job — and right now, you're not doing it. It's time to put an end to this mess and start legislating by passing a bill that funds the government without strings attached, raising the debt ceiling, and restoring cuts in critical programs for women and families.
Tell House Speaker John Boehner: It's time to vote.
A lot of Americans are outraged — and they should be. That's why today, we're asking folks to do at least one thing to speak out.
If you're on Twitter, we're using the hashtag #EndThisNow — tweet right now and tell Speaker Boehner to reopen the government, pay our bills, and get back to work.

You don't have to stop there — we put together a tool so you can keep tweeting to put the pressure on. If you're struggling to put together the perfect tweet, we've got you covered with a number of ideas.
I'll be honest: I don't know what it'll take to finally get John Boehner to stand up to the Tea Party Republicans and do the right thing.
But I know that with every day that goes by — 15 days and counting — more and more Americans are feeling the effects of the shutdown. Economists say defaulting on our debt could send us back into a recession and destroy the hard-earned progress we've made over the past five years.
The frustration Americans are feeling is turning into exasperation and outrage — our lawmakers in Washington need to see it. This isn't a game.
Tweet now, and keep tweeting to tell John Boehner and the Tea Party Republicans to #EndThisNow:
http://my.barackobama.com/End-This-Now
Tea Party activists led by Ted Cruz and Sarah Palin rallied on Sunday to "demand that this president leave town, to get up, to put the Quran down, to get up off his knees, and to figuratively come out with his hands up."
That quote is from fellow rally leader Larry Klayman, who has been extensively covered by PFAW's Right Wing Watch for endorsing violent uprising to overthrow President Obama. Perhaps fittingly, a confederate flag was proudly flown in the crowd.
We have to stop these people — and the only way they will be stopped is at the ballot box, which is why we need to build for success in 2014 right now.
Please join our efforts to shut down the Tea Party with a much-needed donation to renew your 2014 PFAW membership early.
Shutdown leader Ted Cruz is the presidential frontrunner among the most dominant faction of the Republican base — proven just this weekend at the annual so-called Values Voter Summit, where Cruz won the presidential straw poll handily.
This is not your father's GOP. This Republican Party is holding our economy and the wellbeing of countless Americans hostage to its extreme demands with tactics that economists agree could bring down the world economy, and that could wreak havoc on the future of our democracy unless they are thoroughly rejected by voters.
Everything we hold dear as Americans, from the guarantees of equal protection under the law and of basic rights to the social safety net, will be on the chopping block if Republicans are able to hold the House and take control of the Senate.
Let us know you are with us in fighting to stop them — donate to PFAW right now to renew your membership early for 2014 and give us the resources we need to win.
We've never needed the full support of all our members more than right now. Thank you for standing with us again.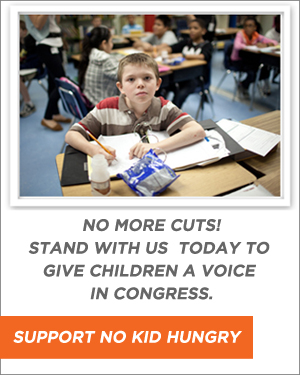 P.S. — If you're not already using Twitter, it's easy to get started — and it's a great way to add your voice to the national conversation. Sign up now.
On November 1, life will get even harder for hungry kids in America. Every person on SNAP in the country — including 23 million kids — will see a cut in their benefits. The average family of four will lose $36 a month which equates to a loss of more than 20 fewer meals per month per family.
Families who already struggle to put food on the table will see that struggle intensify. Yet Congress is considering even more drastic cuts to SNAP as the Farm Bill moves forward. The current proposal slashes SNAP by up to $40 billion, kicking nearly 4 million people off the program entirely and denying 200,000 kids free school meals.
When will the cuts end?
We're working hard to give hungry kids a voice in Congress. We need you to help us carry this message even further. Support No Kid Hungry today and stand up for the families forced to make tough decisions at the grocery store, and for hungry kids trying to pay attention in school.
Your support helps us to continue the hard fight against cuts to programs that hurt children. We're too close to making No Kid Hungry a reality in America and our work can't be derailed by Congress.
Thanks for all you do for our nation's hungry kids.
Sincerely,
Team No Kid Hungry
P.S. Tell your member of Congress that you oppose cuts to SNAP.
—————-
The other side will spend millions to maintain the status quo. We're fighting for change — chip in $5 or more to support OFA today.
Click here for more information, and visit The Sustainable Action Network at anytime!