To Pres. Obama: Don't Approve the Keystone XL Tar Sands Pipeline (petition)
From SumOfUs.org:
We have one last chance to officially tell President Obama not to approve the dirty Keystone XL tar sands pipeline.

By now, we all know what will happen if we tap dirty Canadian tar sands reserves with the Keystone XL pipeline — catastrophic climate disaster. The last public comment period on the pipeline ends this week and numbers really count. We need to show President Obama the huge political and scientific risk of approving the Keystone XL.

The last time the State Department was accepting comments, we submitted over 1 million as a movement. And the pressure worked — the pipeline is still not approved and the President is still on the fence about the project. Let's beat that number this time around with more than 1 million against the pipeline, and show that our movement is growing.
Submit your comment (petition) against Keystone XL, and tell Obama to be a climate champion and not a pipeline president. Let's keep the pressure on! Thank you!
Right now, our government is deciding whether to approve a monster oil pipeline that would unleash devastating levels of carbon pollution from Canada's dirty tar sands. The State Department is holding a public comment process before the big decision, and insiders say they want a mandate to stand up to industry pressure. Let's help by flooding the comment process with an overwhelming mandate to kill this carbon bomb — we only have days left:
Right now, our government is about to make the defining climate decision of Obama's presidency – whether to approve a monstrous pipeline that will transport up to 830,000 barrels a day of the world's dirtiest oil from Canada across the US.
If approved, the Keystone XL pipeline will help pump billions of dollars into the pockets of a few companies… but also millions of tons of carbon into the atmosphere. It's been called "a fuse to the biggest carbon bomb on the planet". Bold public action has delayed it once, and a court ruling the other week has dealt a serious blow to the project. Now, if we act fast and in massive numbers, we can help kill it for good.

Secretary of State John Kerry, responsible for the US's relationship with the world, has opened a final round of comments from the public. He knows this decision is a vital litmus test for US global leadership to avert climate disaster. Avaaz members from every country will turn it into a truly global referendum by flooding the consultation with a million voices calling on them to kill Keystone and take the leadership role they say they want in the fight to save the planet. We only have days until it closes – join here:

https://secure.avaaz.org/en/stop_the_keystone_xl_pipeline_loc_us_fbcss/?bIQwIeb&v=36748
The heat from Big Oil is already intense – they've bought out the ads in DC subways that politicians pass through to get to work. If we hit a million signers, Avaaz will fight back on the DC battleground, taking out ads right next to theirs so Secretary Kerry and his staff see the people's voices first and loudest.
Big Oil ads are just the tip of the iceberg. We know that our government is under fire from industry lobbyists who will make serious money from the pipeline. But it will be at the cost of all of our futures. Tar sands oil is the dirtiest dirty fossil fuel ever cooked up – releasing 3-4 times the global warming pollution of normal petrol!
Last year, Obama said he'd let Keystone go ahead only if it was found to be in our national interest and if it could be proven that it wouldn't worsen the climate crisis for future generations. And Kerry has spent decades fighting for the climate and even opposed Keystone as a Senator. Pipeline supporters are answering with claims of more construction jobs and greater independence from petro-states. But Obama knows that the real jobs are in clean energy and that climate change is perhaps the greatest threat to US and global security there is.
We're already winning. Three years ago, this pipeline was a foregone conclusion. But then people-power swung into action — thousands were arrested at the largest act of civil disobedience in the US in decades, and Obama refused the initial proposal. Let's do our part now by collecting over a million comments in the US and around the world and give Kerry and President Obama the public cover they need to reject the Keystone carbon bomb:
https://secure.avaaz.org/en/stop_the_keystone_xl_pipeline_loc_us_fbcss/?bIQwIeb&v=36748
Wherever we are in the world — Alberta, Canada, where the pipeline would begin; the UK, still recovering from historic floods; Australia, just emerging from a summer ravaged by record fires, or any other country where extreme weather is taking its toll – we're all downstream from climate change. If we stand together today, we can all be a part of a victory to stop this crazy pipeline and help build a strong climate movement.
With hope,
Pascal, David, Luis, Antonia, Emma, Patri, Wen, Ricken, and the Avaaz team
SOURCES:
Pressure is on Kerry as Keystone pipeline decision nears (Washington Post):
http://www.washingtonpost.com/national/health-science/pressure-is-on-kerry-as-keystone-pipeline-deci…
Pipeline Fight Lifts Environmental Movement (New York Times):
http://www.nytimes.com/2014/01/25/us/keystone-xl-pipeline-fight-lifts-environmental-movement.html
10 Reasons to Oppose the Keystone XL Pipeline (The Huffington Post):
http://www.huffingtonpost.com/rose-ann-demoro/10-reasons-to-oppose-the-_1_b_4791713.html
Oil sands pollution two to three times higher than thought (Yahoo News):
http://news.yahoo.com/oil-sands-pollution-two-three-times-higher-thought-210153802.html
How Much Will Tar Sands Oil Add to Global Warming? (Scientific American):
http://www.scientificamerican.com/article/tar-sands-and-keystone-xl-pipeline-impact-on-global-warmin…
Foreign Company Tries To Seize U.S. Land For Keystone Pipeline (Forbes):
http://www.forbes.com/sites/jamesconca/2014/02/24/foreign-company-tries-to-seize-u-s-land-for-keysto…
Also, Exxon-Mobil and Enbridge Inc. are attempting to create a pathway for tar sands from Montreal, Canada to Portland, Maine. If it goes into effect, up to 300,000 barrels of this especially toxic brand of oil could be pumped through wildlife habitats.
The demanding extraction of tar sands oil creates more pollution than conventional crude and makes cleaning spills impossible. Even worse, numerous species — namely moose, depend on the waterways around the proposed pipeline. With the influx of carcinogens caused by extraction to the environment, they will be put into harm's way.
We can't let this risky venture go forward. Write to the U.S. State Department and demand that they put a stop to the Northeast tar sands pipeline!
PHOTOS: Hundreds Arrested In Protest Of Keystone XL Pipeline
"PHOTOS: Hundreds Arrested In Protest Of Keystone XL Pipeline"
Youth activists held a rally on Sunday outside of the White House demanding President Obama stop construction of the proposed Keystone XL pipeline that would carry tar sands south across the country from Alberta, Canada to Texas.
About 1,000 were expect to turn out for the protest, many of them university students. Anestimated 300 people locked themselves to the White House fence before being arrested by security. The protest comes just days after a report from the State Department's Inspector General found that there was no conflict of interest in the fact that the contractor hired to write a Environmental Impact Statement on the pipeline also worked for major oil companies involved in its construction.
Could the Keystone pipeline give you cancer?
Last week, Sen. Barbara Boxer (D-Calif.), head of the Senate Environment and Public Works Committee, announced that she had some "dramatic new information" to share. The information: Heavy crude from tar sands isn't just going to bring us back to the hot mess of the Cretaceous, it's also going to make us sick. Or some of us, anyway.

The information is dramatic, though not new. Every time you're around crude, heavy or light, it's not great for you. Anyone who uses the EPA's website to search for pollution near their zip code is going to find a lot of old gas stations and auto body shops. The health risks Boxer highlighted — asthma, respiratory ailments, increased risks of heart disease and cancer — are ones that community activists near oil refineries, power plants, and drilling operations have been warning about for years. But extraction of heavy crude releases more emissionsthan extraction of light. And when a pipeline carrying heavy crude ruptures, the resulting spill is much more difficult to clean up, meaning that — so far, at least — more of it stays in the ecosystem it spills in, up to and including the people in that ecosystem. So Boxer is not so much making a new argument as reformulating an old one and, in the process, giving anti-Keystone activists another line of attack: human health.

At her press event on Wednesday, Boxer brought experts to speak on the health risks potentially posed by Keystone. The first, John O'Connor, was profiled in Mother Jones six years ago. A rural physician working in Fort Chipewyan in Alberta, Canada, he became convinced that the community's residents had much higher rates of lung, colon, bladder, and prostate cancer than residents of other small towns in the region, and suspected there was a connection between those rates and a tar-sands extraction operation upstream. When O'Connor found five cases of a rare cancer of the bile duct in the community, he reported his suspicions to the Canadian government, and then the press. The news didn't go over well. Canada's national health agency accused him of exaggerating his numbers and raising "undue alarm" about the dangers of living in Fort Chipewyan and creating "a sense of mistrust" in authorities. O'Connor could have had his medical license suspended or revoked, but the charges were later dropped. Since then, the Alberta Cancer Board has recommended monitoring Fort Chipewyan for the next five to 10 years, but the small size of the community makes it less than ideal for an epidemiological study.

The health effects of environmental pollution are notoriously difficult to quantify. People lead such complicated lives before they get cancer that it's difficult to pinpoint one huge cancer-causing villain. Humans make poor lab rats — they live longer than rats, for one thing, and they have a way of doing things that complicate experiments, like smoking, or taking new jobs, or moving from house to house and from city to city.

But the research of Isobel Simpson and Stuart Batterman, another team cited by Boxer, also suggests there could be potentially troubling links between tar-sands production and cancer, though they're more cautious than O'Connor. After searching through a decade's worth of Canadian medical records, the duo concluded in a paper published in October 2013 that men living in counties downwind of tar-sands extraction operations and refineries in Alberta, Canada, had higher levels of leukemia and non-Hodgkins lymphoma, but they stopped short of saying that the industry had caused the elevated levels of cancer.

Simpson and Batterman uncovered other disturbing information as they tried to figure out which counties in Alberta were most affected by tar-sands extraction and refining. Rather than going by the counties' own emissions records, they calculated air quality by taking one-minute samples of the air in different counties at random times over a period of several years. Their readings showed that these rural, out-of-the-way counties had air quality as bad as some of America's largest and most polluted metropolises (Galveston, Texas, was a close match). They also had high levels of carcinogens like 1,3-butadiene that plants in the area had never disclosed they were emitting.

Boxer's stated goal in holding her press conference was to pressure the State Department to conduct a new study into the human health impacts of the proposed Keystone XL pipeline. The 11-volume doorstopof an environmental impact study that the State Department bestowed upon the nation last month is "woefully inadequate" in examining health risks from the pipeline, Boxer said. She continued:
Today I ask how are more Americans with asthma in the national interest? How are more Americans with cancer in the national interest? How is it in the national interest when kids playing baseball have to duck and cover from dangerous pollution?

Children and families in the U.S. have a right to know now — before any decision to approve the Keystone tar sands pipeline — how it would affect their health.
Secretary of State John Kerry is probably not going to call for a health study and add yet another step to this already protracted and controversial process. But if he did, it would give him and President Obama an excuse to stall on the Keystone decision even longer, past November's midterm elections, bolstering its reputation as the nation's biggest hot potato.
Here's a look at some photos from the protest: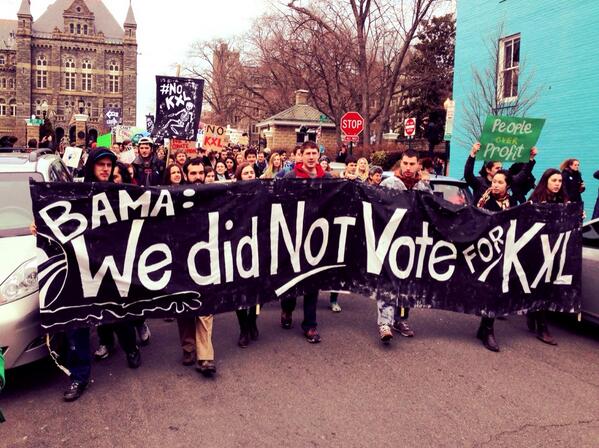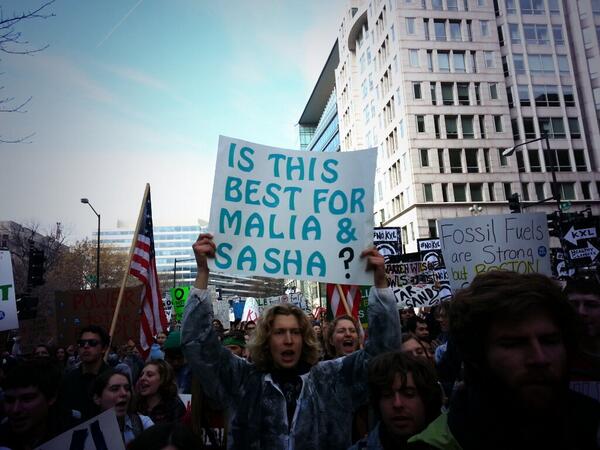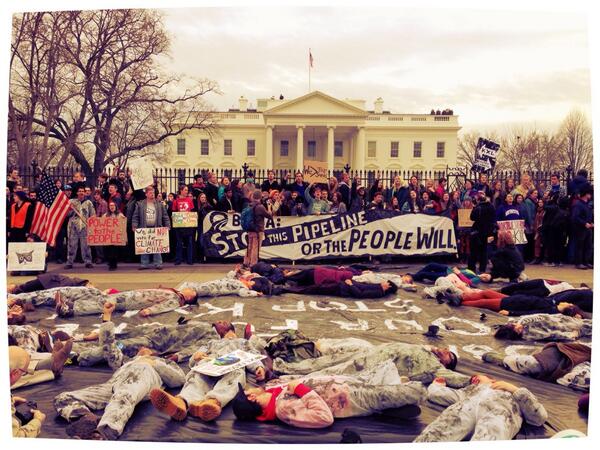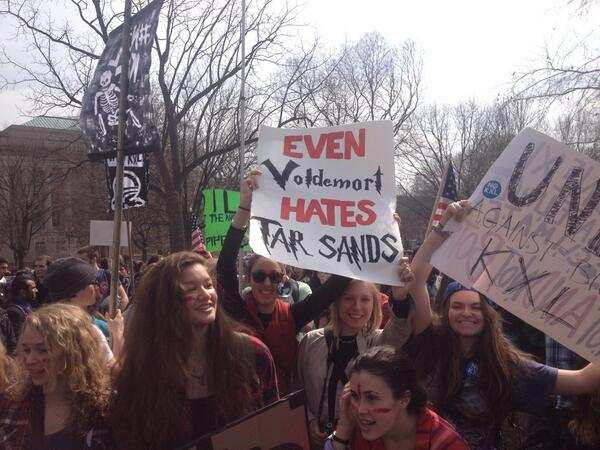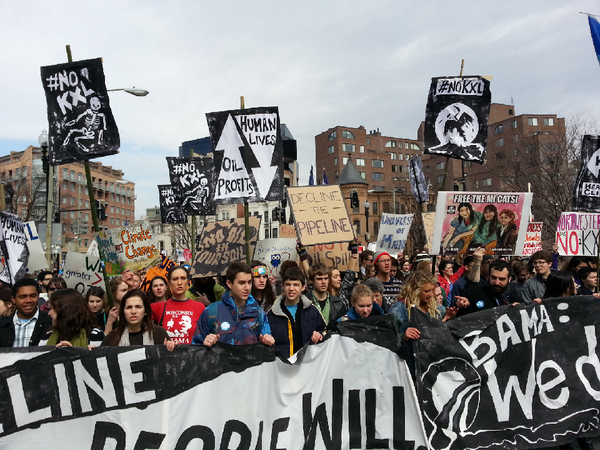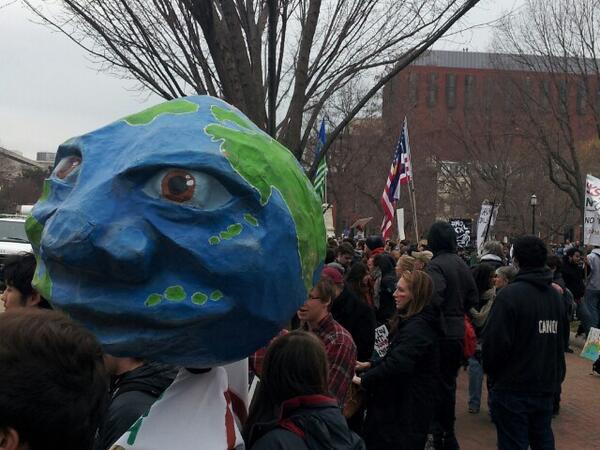 The Keystone XL pipeline is estimated to ship enough oil to emit 51 coal plants' worth of carbon, while creating just 35 permanent jobs. While there have been some successful legal challenges to the pipeline's construction, President Obama is the only major obstacle standing in the way of its creation.
UPDATE
Rally organizers peg the number arrested at around 400. Buses were brought in to cart away those who'd been arrested:
Related articles